I am the queen of to-do lists. Sometimes I make to-do lists and the first thing on it is "wake up". I just love checking things off lists, it's so rewarding. I decided I would make a giant list of everything that needs to be done in our tiny bathroom. We will literally be replacing every single thing in our bathroom except the blinds. There is so much to do in our 40 square foot
peasant
master bathroom, so here it goes. Some things have already been crossed out, if you remember from
here.
Rip out tile
Remove old shower pan
Remove and clean up mold
Convert two shower knobs (hot and cold) to one
Raise shower head from six feet high to seven
Re-route PVC piping to allow room for shower niches
Raise subfloor with new plywood so new shower pan will fit over drain
Install shower pan
Install and seal drain
Install shower niches to studs
Install backerboard
Caulk between shower pan and backerboard junction
Caulk and seal around shower niches
Learn how to tile
Start tiling
Freak out
Ask yourselves, "why are we doing this?!"
Begin divorce papers
Tile for hours and hours and days on end
Wonder why and how people do this for a living
Shred divorce papers because now we know what we're doing and love each other again
Seal tile
Grout tile
Seal grout
Install shower door
Caulk corners and seams
Install shower head and knob
Shower for the first time since April
Shower again later that day... just because
Remove vanity
Remove toilet
Remove light, light switches and mirror
Rip out linoleum
Rip out drywall and trim around door and window
Move light switch and electrical outlet because they are in the way of the pocket door
Install pocket door
Drywall
Paint (fun!)
Apply backerboard to subfloor
Tile floor (with less freaking out because we are pros now)
Grout and seal
Install toilet
Assemble and install vanity
Assemble and install medicine cabinet
Update frameless mirror
Install vanity light
Put trim and baseboards back
Crown molding?
Buy fun, new accessories
Bathroom dance party
Just a tiny little list, right? Now for my vision. This was honestly the easiest part. It may take me 20 minutes to order something off a menu at a restaurant, but when it comes to home improvement and design, I know exactly what I want.
SHOWER
Tile: My contemporary version of "neutral" is grey. (I consider taupe/beige to be the neutral version for traditional style). I love the look of Carrara marble like this along with the accent tile. The unique grey veins in the marble are subtle but beautiful. I like the 3"x6" size. And maybe put the accent mosaic tile inside the niches?
Hampton Carrara on the left; Key Largo mosaic on the right. Both from The Tile Shop
Shower fixtures: I want to have the same finishes throughout the bathroom so everything is cohesive. I want to go with chrome because I feel like it's less trendy than oil-rubbed bronze or brushed nickel. Plus I think there are less variations of chrome and therefore easier to match. Once again, I like contemporary and clean lines, so of course my eyes are drawn to this beauty found at Faucet Direct for half the price at other stores (and free shipping!). I think it would look really good with the subway-sized tile.
Shower door: Once again, gotta go with the chrome. There is not a lot of room in our bathroom so we have to go with sliding doors. Our old shower doors had textured glass, we think we want clear glass because (get your mind out of the gutter) it will make the bathroom look larger and you will be able to see the beautiful tile better. One like this Kohler shower door:
FLOOR
Floor tile: I want everything to be bright and light except for the floor. I'm thinking about a dark charcoal grey tile. We found these at The Tile Shop:
WALL COLOR:
And continuing with the neutral-grey theme, I like these colors below. From my experience painting my living room, it's better to go with a more brown-grey than a blue-grey. It'll downright look baby blue in some lighting!
Benjamin Moore - Stonington Gray
Benjamin Moore - Coventry Gray
I figured these colors would go well with our bedroom color below
Benjamin Moore - Trout Gray
LIGHTING:
The vanity lighting will be where I have a little bling. Everything else will be sleek, contemporary, and with clean lines. There is not enough room to have lights on either side of the mirror (which is best for applying make-up) so we have to go with lighting above the mirror. I was thinking something like these from Lamps Plus.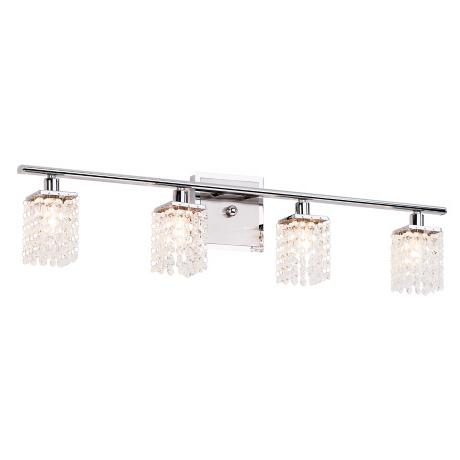 Or maybe something less blingy like this: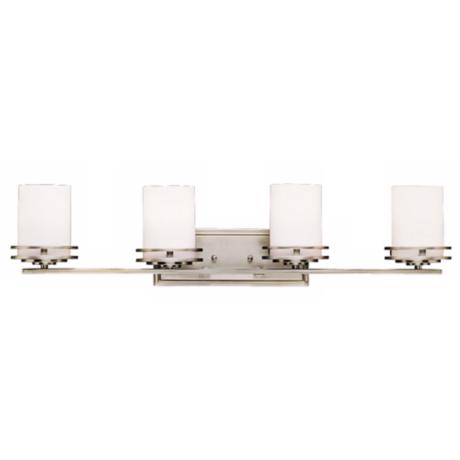 VANITY/MEDICINE CABINET:
Vanity: When we were at Ikea last January, I fell in love with their bathroom cabinets and accessories. They are sleek, cheaper than most vanities, and focus on saving space - which we need in our 40 square foot bathroom! I was thinking either one of these below. They have 2 large drawers that go all the way back to the wall:
They also have organizers that can fit in the drawers. I love containers about as much as I do to-do lists
Faucet: Continuing with the chrome theme, I like these faucets:
Medicine cabinet: Gotta have storage in our small bathroom, and definitely have to replace the old cabinet above the toilet. Ikea has these cabinets that coordinate with the vanities I like. The inside is mirrored as well.
ACCESSORIES
Towels: We are still using the towels we got from our wedding over 3 years ago, but we may move those to the guest bathroom and get new ones. I'm sure Ehren loves this idea!
West Elm.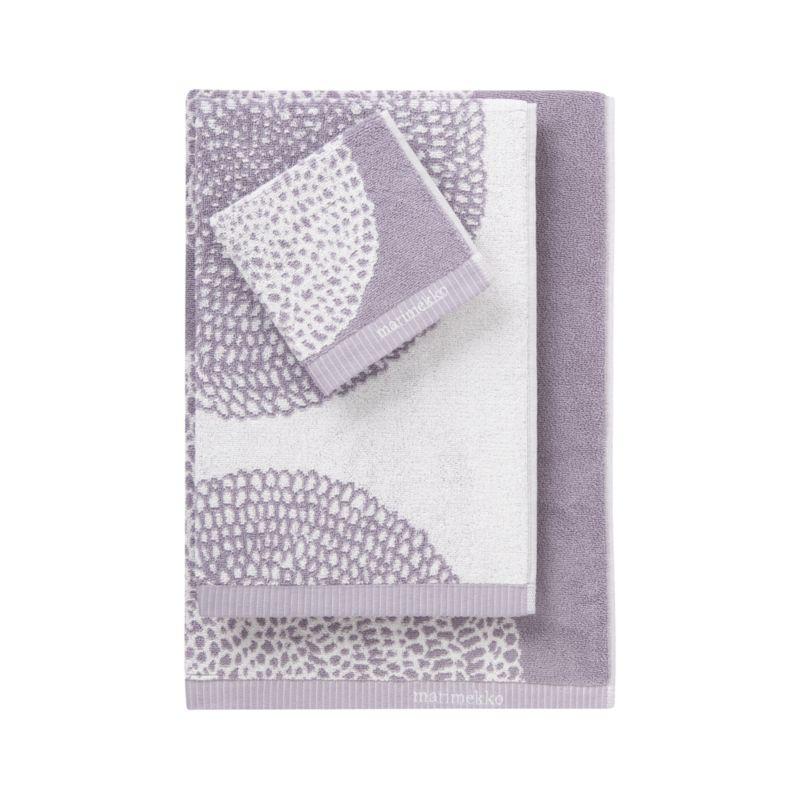 Crate & Barrel.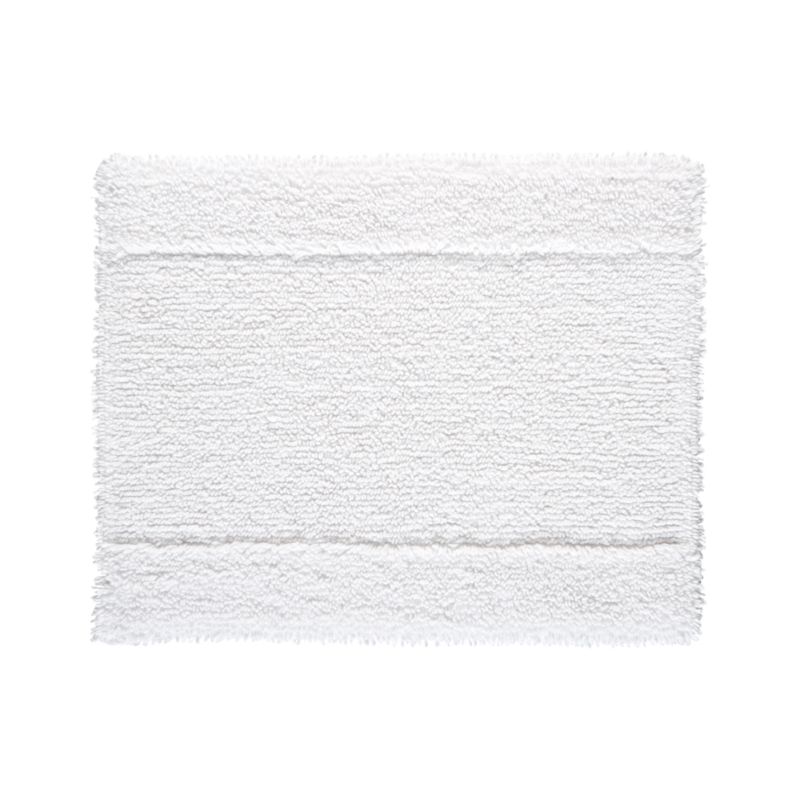 Crate & Barrel.
Not everything will be grey, black, and white - I will be accessorizing with color. Now if only everything would be done the next time I go up to our bathroom. It's going to take a lot of work, time and weekends but it will all be worth it. We will have a brand new bathroom, learn a lot of new skills, strengthen our relationship (I hope), and add value to our house. Now to tackle that to-do list!
What do you think? Anything you would add? Do you think we're crazy to tackle this ourselves without any experience? We sure do.